French Immersion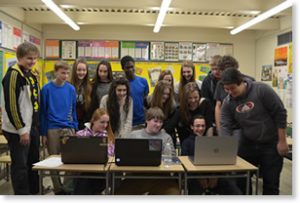 Continuing in French Immersion is the Natural Choice
Bienvenue au programme d'Immersion. Lockerby Composite School's Immersion program improves students' second language competency in an engaging, practical and real-world context for use in an ever-evolving globalized society.
By continuing studies in French Immersion, students will be functionally bilingual and receive an F.I. Certificate.
Moreover, in today's ultra-competitive job market, functional fluency in languages can enhance employment and other opportunities.
Top Three Reasons to Take French Immersion at Lockerby
Continuing French Immersion in the school that provides options, you can combine French Immersion and the Science and Technology Education Program.
No split classes.
Variety of course offerings in Junior and Senior years.
What can a motivated student  reasonably be expected to achieve by the end of the French Immersion Program?
By the end of the student's school career, the successful student :
Can participate easily in a French conversation
Could take post-secondary courses with French as the language of instruction
Could accept employment using French as the working language
Could live in a French community with only a brief period of adjustment  to local expressions
Understands and appreciates the importance of culture to members of a French-speaking  community
2  – French Immersion STEP   French Immersion…The natural next STEP
Immersion is available in STEP laptop or non-laptop programs and combines language skills with technical skills in a variety of courses. Lockerby students are well prepared to continue studying in the expanding French Immersion programs at the post-secondary level.
In addition, several students participate in International Student Exchanges in France for either one month in the summer or three months during second semester from February until April.  Le français : un avantage bien amusant!
French Immersion and STEP – What a great combination!
3  – The French Immersion Certificate
Graduates of this program successfully complete four French language credits plus an additional six credits taught in French.
Additional subjects offered in French include:
Histoire
Géographie
Éducation physique et santé
Exploration de carrière
Civisme et citoyenneté
Éducation technologique
Changement et défis sociaux
4 – FSL Homework Toolbox