April is Cancer Drive Month!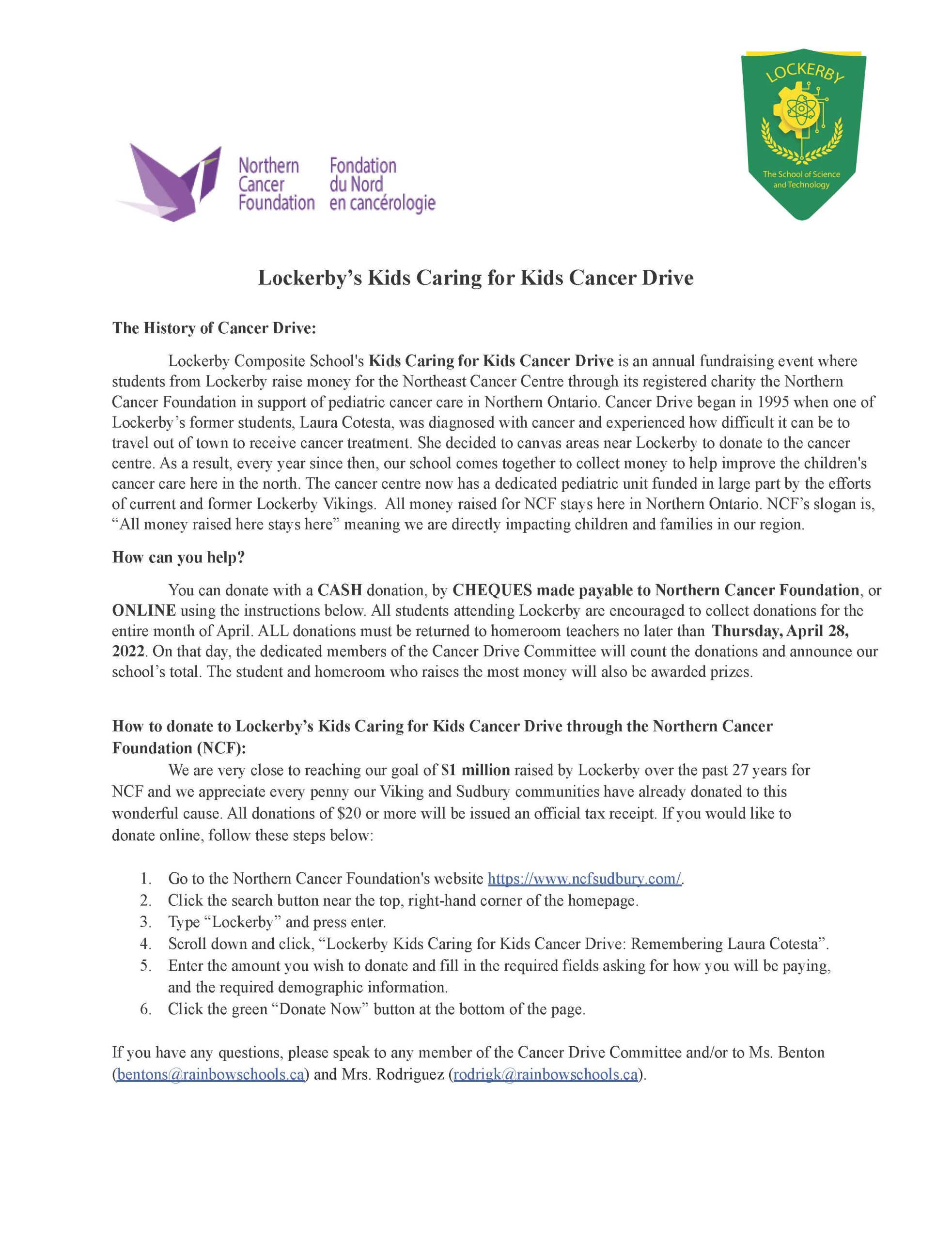 Get Ready Vikings!
Lockerby Composite's Kids Caring for Kids Cancer Drive Committee is gearing up for another successful year of raising money for the Northern Cancer Foundation.  Did you know that every dollar raised in Sudbury STAYS in Sudbury at the Northern Cancer Foundation?  That's what makes this fundraiser a truly unique opportunity for the students and staff at Lockerby Composite to support our local community.  So get involved!  Lockerby Composite is committed to a culture of caring in Sudbury.
Who's Who?
Teacher Representatives:

Ms. Benton and Ms. Rodriguez
Co-Chairs:
Darren Tymeczko
Staysha Kasunich
Committee Members:
Ava Bard
Sophia Lilley
Jordan Malo
Mariam Siddiqui
Alison Smith
Maeva Sullivan
Calli Evans
Laura D'Aloisio
Derek Grubber
David Sorgini
Zander Kasunich
Natalia Campeau
Anna Svalina
Liz Uguccioni
How can you help?
Donate directly to the Northern Cancer Foundation. Click here for details.
Corporate Donation Letter – Click here for details.
Get Involved!
MOST IMPORTANTLY, sign-up for a team, ask a relative to be a volunteer driver, and get outside to raise money to help kids and their families navigate the journey through cancer treatment.
How did Cancer Drive start?
We're glad you asked, because it was started by one of our own- a brave young woman who was battling cancer herself and wanted to make it easier for kids and their families in the North to get treatment close to home.  Her name was Laura Cotesta, and she is a model of community for us all.  That was 26 years ago, and Lockerby Composite students remain proud to continue the tradition she started over two decades ago.
From her Laura's sister, Daniella Cotesta:
Laura battled Cancer for 10 years. She was first diagnosed when she was eight and struggled through all of her treatments because she had to be away from home at The Hospital for Sick Children in Toronto as treatments were not available in Sudbury.
Cancer Drive is a one-night blitz, where the students of Lockerby Composite high school go door-to-door to raise money for the Pediatric Cancer Centre. The proceeds started the Paedatric Cancer Centre in Sudbury but has been fundamental in ensuring that children feel comfortable and at ease when they go in for treatment. They no longer need to go through treatment with adults or elderly. There are currently five treatment rooms with child-size equipment, a private waiting room with toys and brighter colours, a library with resources, a tele-conference room for doctors to communicate with other specialists, and a team of dedicated individuals (nurses, social workers, teachers) who focus solely on the Pediatric area. This is an astonishing accomplishment.
I don't think Laura could have imagined the Cancer Drive being so successful and affecting so many people. She always said, "If you keep hoping and praying for sunshine, the sunshine is sure to come."