Executive Council: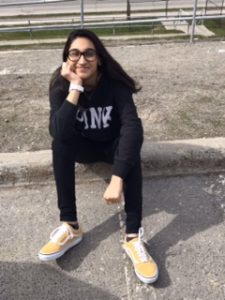 Raksheen Khan: PRESIDENT
Grade 12
Students' council is a true family that is dedicated towards the betterment of our student body's experience in high school. It has been my safe space for the last 4 years, and my favourite part would easily have to be the smiles you get to witness during an event that everyone on council has worked so hard on.

"To hate is a very easy lazy thing but to love takes strength everyone has but not all are willing to practice," ~ Rupi Kaur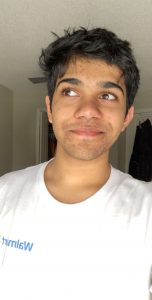 Rayaq Siddiqui: VICE PRESIDENT
Grade 12
Students' Council is a group of passionate individuals who are continuously impacting the Lockerby environment. Either by creating a family-like environment, molding a culture or developing an inclusive atmosphere. Knowing that you can influence so many lives is what makes Students' Council so worthwhile. 
"In everyday, there are 1,440 minutes. That means we have 1,440 daily opportunities to make a positive impact," ~ Les Brown
Nethra Wickramasinghe: VICE PRESIDENT
Grade 11
To me, being a member of Students' Council means being part of an amazing team of determined individuals who are making a positive difference within the school community. Students' Council strengthens the bonds of friendship, optimism and unity that uphold the values of Lockerby Vikings, and the culture within our school.
"Happy are those who dream dreams and are ready to pay the price to make them come true," ~ Tupac Shakur 
Caleb Dunlop: Treasurer
Grade 12
Students' council is a phenomenal opportunity to create a positive impact on student life at Lockerby. It is a family that collaborates cohesively in planning events, coming up with innovative ideas and developing a school-wide image. Knowing that our dedication and perseverance has amounted to positive results is the best part of all.

"Success is not final, failure is not fatal. It is the courage to continue that counts" – Winston Churchill
Liam Post: General Member
Grade 12
My favorite part of the Student's council is the fact that everyone gets along so well and always pitches in their share of work like one big happy family.

"How crazy would it be if the legs on tables were like actual human legs and could actually move around and stuff. Would that be weird or what?"
-Stephen
Chidinma Opara: General position
Grade 12
The student council gives me a voice to other students.

"Respect is how to treat everyone, not just those you want to impress". – Richard Branson
Kaitlyn Brouillette: Creative Director
Grade 11
Student's Council has given me so many opportunities to meet and connect with new people.  Being Creative Director allows me to have fun with ideas and express myself as an individual as well as expanding my horizons, a privilege that is so amazing and never ceases to amaze me.
"Have some fire.  Be unstoppable. Be a force of nature."
-Christina Yang [Grey's Anatomy]
Caston Antonioni: Announcement Coordinator
Grade 11
Council to me truly is a privilege, it gives me the ability to communicate frustrations of peers and also gives me the ability to help fix them. It's great getting work with some smart and kind people on a daily basis to improve this school for everyone.
"Good enough is the enemy of perfect". 
-Voitare
Dulain Abeyratne: Secretary 
Grade 11
Students' Council is a great opportunity to give a voice to the student body and to help bring new and fun ideas to make our school environment better. It has been amazing being part of such an amazing committee that has made such a big difference in our school already, and I am excited for what the future holds.
"I've failed over and over again in my life. And that is why I succeed." – Michael Jordan
Theo Papadakis: Marketing Coordinator 
Grade 11
Students' Council is a gateway for bringing change, innovation, and a sense of community to Lockerby. As the Marketing Coordinator, I am proud to be making advertisements for events, spirit weeks, and other activities. Students' Council plans for students, in an effort to maximize their high school experience and life at Lockerby.
"With your mind power, your determination, your instinct, and the experience as well, you can fly very high" 
– Ayrton Senna
Logan Drane: General Member
Grade 12
Students Council allows me to be involved in every aspect of Lockerby by giving me the opportunity to plan and run student events and by improving student life.
"Sometimes you will never know the value of a moment until it becomes a memory"
-Dr. Seuss
Mariam Siddiqui: Junior Social Convenor
Grade 10
Students' Council provides many positive and amazing chances to make an impact on our peers' lives around our school. Besides, having the opportunity of being able to express the feelings of our peers', so that this school could be at its' full potential is very rewarding.
"It is better to fail in originality than to succeed in imitation."
-Herman Melville
Alison Smith: Junior Social Convenor
Grade 10
I like being on council because it gives me an opportunity to help out in all school activities and I feel as if I am a part of the school. I can put forward my creative ideas in dances and school spirit. to me student's council is a great way for me to give back to my school.
"As you grow older, you will discover that you have two hands — one for helping yourself, the other for helping others."
— Audrey Hepburn
Halle Shannon: Senior Social Convenor
Grade 12
Halle Bertrim: Junior Social Convenor
Grade 10
Summer Lowes: General Member
Grade 9
I believe Students' Council is an amazing way to meet new people and help out the school community. I love that we are able to make the school a more interactive place for students to have fun as well as learn at the same time. I love being able to work with this group of people on various projects.
"Change your thoughts and you change your world"
-Norman Vincent Peale
Jazmyn Johns: General member
Grade 9
Gabrielle Comeau: General member
Grade 9
I believe Student's Council is a great way to help make student life better. I'm very happy to be apart of a team that is so hardworking and dedicated.
"Alone we can do so little, together we can do so much."