News & Events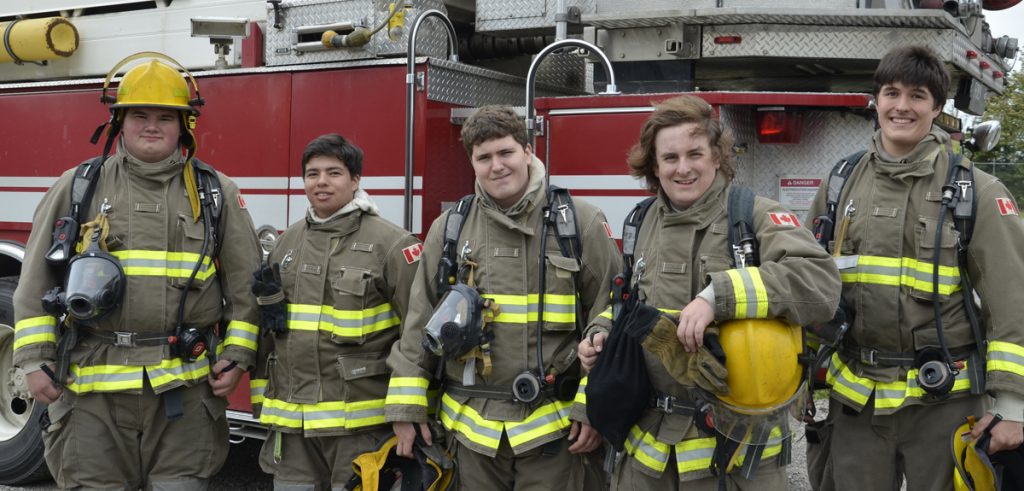 Lockerby's Firefighters in the Making
by Mia Jensen.
Twenty-two Lockerby students were given the opportunity of the lifetime this past Friday when they were invited by the Sudbury Fire Department to their training centre in Azilda to spend the day discovering what it takes to be a firefighter.
It started with our construction tech class, who were asked to make a variety of small, model houses for the department to use for training purposes. From there, the students were asked by Chief Training Officer McMahon to come utilize their creations during a full day of firefighting training, along side a handle for of forensics students.
Students suited up in full bunker gear and were asked to complete three scenarios. In the first, they burned one of the models they created, which gave them an opportunity to view how airflow and unburned gases can influence a fires progression through a building. From there, they learned about how the colour of smoke can provide firefighters with warning signals in an emergency. In the next scenario, students entered a bunker to experience heat and witness the flames a firefighter may encounter in a building, as well as experience the difficulties of moving around in full gear. In the final scenario, students crouched in a second storey room where heat and smoke were simulated to emulate the effect that would be felt in a real building fire. Students then navigated out of the room on their hands and knees after water was used to control the situation.
For these students, it was the opportunity of a lifetime to experience firefighting up close and personal. Thank you to the training officers and firefighters who welcomed out students to their training centre and provided them with this once in a lifetime opportunity.
---