News & Events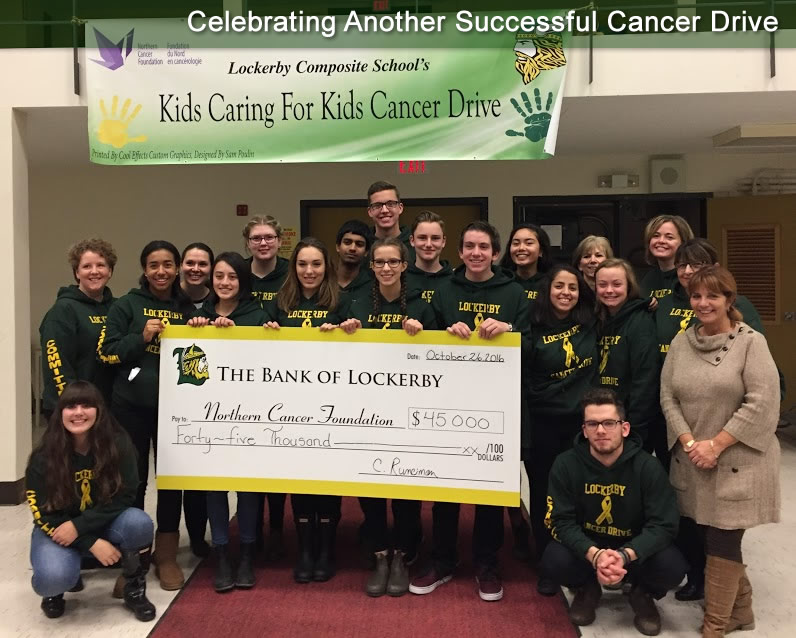 Cancer Drive in Full Swing!
Thursday, September 19th 5-9pm: Tony V's celebrity server event
Come for dinner at Tony V's or order take out. A percentage of the sales will go to our very own Cancer Drive! It was a jam-packed place last year so you may want to make reservations. Wear your Vike wear clothing.
Thursday, October 3rd: Cancer Drive Motivational Pep Rally
1:00pm – 2:15pm in the GYM
(gym unavailable for classes all day)
Please bring ALL students down to the gym at 12:55. The pep rally will begin at 1:00pm and run until about 2:15pm at which time students will sign up with teacher teams. Please wear any previous years' Cancer Drive sweatshirts.
Saturday, October 5th and Sunday, October 6th 11am – 3pm:
Grocery Bagging at Chris' YIG on Lorne Street
Our CD committee will be bagging groceries and accepting donations for our Cancer Drive. Please encourage your friends and family to support us this weekend.
Sudbury Wolves' Game: Friday, October 18th, 7pm
Our CD committee will be selling sweaters, Laura Cotesta books, and toques at the Sudbury Wolves' game to promote our upcoming Cancer Drive the following week. Some Wolves players will be at our Motivational Pep Rally too. Reduced price tickets will be on sale prior to this night. Please consider purchasing tickets and wearing Vike Wear to the game.
Cancer Drive Instructional Assembly: Thursday, October 24th, 12:00 – 12:30pm in the auditorium
For students participating in canvassing tonight, please send them to the auditorium after attendance at the beginning of period 3. They will return around 12:30pm.
Lockerby's 24th Annual Cancer Drive: Thursday, October 24th 6-9pm Lockerby's biggest night!!!
LCS students will head out on the streets of Sudbury to canvass for the pediatric unit of the Northeast Cancer Centre. It's going to be great! Please wear the new Cancer Drive sweatshirts or any previous years' sweatshirts.
Cancer Drive Thank You Assembly: Friday, October 25th: 9:45 – 10:15am in the auditorium
For students who participated in last night's canvassing, please send them to the auditorium at 9:35am just before the first bell. They should be back around 10:15am.
The Cancer Drive Committee members, look forward to organizing another successful drive. We are also always looking for more volunteers to help with our committee, grocery bagging, our celebrity server event, setting up for the pep rally and other assemblies, taking photos, and, of course, leading teams and driving students. If you're interested, please let us know.
The CD Committee consists of the following students:
Co-chairs:
Vanessa C
Rayaq S
Members:
Abigail O
Nethra W
Rebecca S
Kennedy W
Jordan M
Daniella L
Jake P
Staysha K
Sophie D
Avery C
Kaitlyn B
Ava B
Dulain A
---